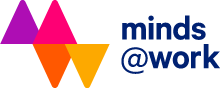 One of the objectives of any Minds in the Wild challenge is to help raise awareness and funds for good causes. Participants will have the chance to nominate a cause close to their own hearts, or the cause can be decided by the company.
We work closely with the UK National charity for mental health, Mind, registered charity number 219830, who are championing great work in enhancing mental wellbeing at work, and Minds@Work who are inspiring and equipping individuals to break the stigma of mental ill health in their workplaces.
Whichever charity you choose to support, we will work closely with your organisation and the charity partner to ensure that we collectively maximise the opportunity to do good.